FAQ on Patient Registries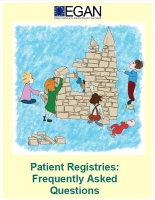 A registry is an organised system in which uniform data are collected for a predefined purpose. Registries of patients and/or healthy volunteers are important for assessing the prevalence and development of diseases. They can not only be used to determine the relationship between different aspects of lifestyle health, but also to quickly identify patients that could participate in a clinical trial. Therefore, the use of patient registries in healthcare research is very important.
Patients and healthy individuals will increasingly be asked for their participation by allowing the inclusion of their personal information in registries. These people might have questions regarding the registry as privacy protection or the use of their personal information in research. The following document aims to make it easier for individuals to participate in registries by answering the questions frequently posed by these individuals. The document, therefore, focuses on registries for clinical and scientific research.
The answers given to these questions are inevitably general. They may not apply in every detail to any particular registry. If there are any questions we suggest asking and discussing them with a representative before proceeding.
The brochure is available in English and can be downloaded here.